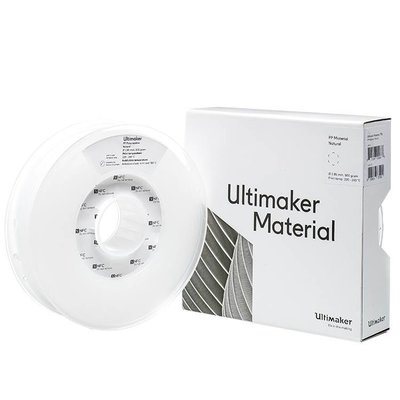 Ultimaker PP (NFC) - 500gr - Natural - 2.85mm
Ultimaker PP (polypropylene) is durable, strong material with low friction. It also has good chemical, temperature and electrical resistance. PP is one of the most commonly used plastics on the planet.
Free EU shipping above €100,-
Information
PP is used worldwide by engineers and manufacturers for a wide range of applications.


Durable with high mechanical strength and fatigue resistance (PP retains its shape after torsion and / or bending)
Low friction and smooth surfaces
Semiflexible
Chemical resistance to a wide range of acids and bases, including industrial cleaners
High electrical resistance makes it a good electrical insulator
Good translucency
Low density that results in lightweight components (high strength to weight ratio)
Excellent layer adhesion
Adequate adhesion and low warping when using Advanced 3D Printing Kit stickers
Recyclable
Why choose 3DNINJA?