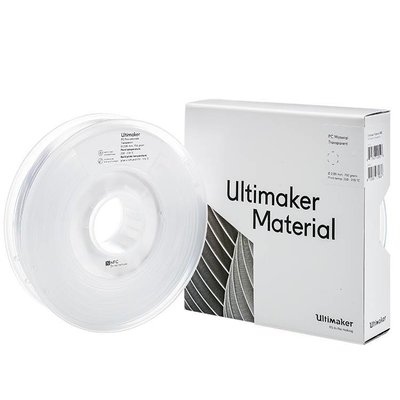 Ultimaker PC (NFC) - 750gr - Transparent - 2.85mm
With Ultimaker PC (Polycarbonate) filament, you can print strong and durable components that maintain dimensional accuracy while exposed to temperatures of up to 110 ºC.
Free EU shipping above €100,-
Information
PC is the material of choice for engineers and manufacturers who need components that will maintain their strength, hardness and shape while being used in high temperature enviroment.


High mechanical strength, especially for non-transparent filaments
Glass transition temperature of at least 110 ºC
Flame retardant properties
Dimensional accuracy
Strong layer adhesion, especially when using the front door add-on
Great bed adhesion, especially when using the stickers provided in the Advanced 3D Printing Kit
Excellent transparency when using the Ultimaker PC Natural.
Why choose 3DNINJA?