€4.470,95
21% VAT included
Ultimaker 3 Extended
The Ultimaker 3 Extended, the original Ultimaker 3's big brother. With a unique dual extrusion system, high reliability, and even more possibilities than ever before.
Free EU shipping above €100,-
Information
The new Ultimaker 3 Extended is another step into the future. This machine offers the professional unlimited possibilities, without compromising on reliability or user-friendliness. The thing that distinguishes the Ultimaker 3 Extended from the original Ultimaker 3 is the possibility to print up to 300 mm high instead of the original 200 mm.
 
Dual Extrusion with print cores
The hardest part of 3D printing currently might be taking into account placing and removing supporting material. Since FDM printers cannot print in the air, a support must be placed, made from (preferably) another type of material. With some models, you can easily work with the support material made of the same material and the same print head to print, but if they need to print more complex models, professionals usually use a special material.

With the new dual extruder systeem & print cores of the Ultimaker 3 this is the easiest it has ever been. The biggest problems that many dual extruder 3D printers have to deal with is that the second print head often leaves behind a residue on the model or even knocks over the models. Since the Ultimaker 3 Extended does not move the printing print core upwards, this will never happen with the Ultimaker 3 Extended.

Print cores have also been developed for specific materials, the standard print core (AA) is for your standard filament, such as PLA, ABS, PETG, etc., and there is a dedicated print core (BB) for the support material (PVA). This means that you do not have to worry about clogged nozzles, because different materials are flowing through the print head all the time.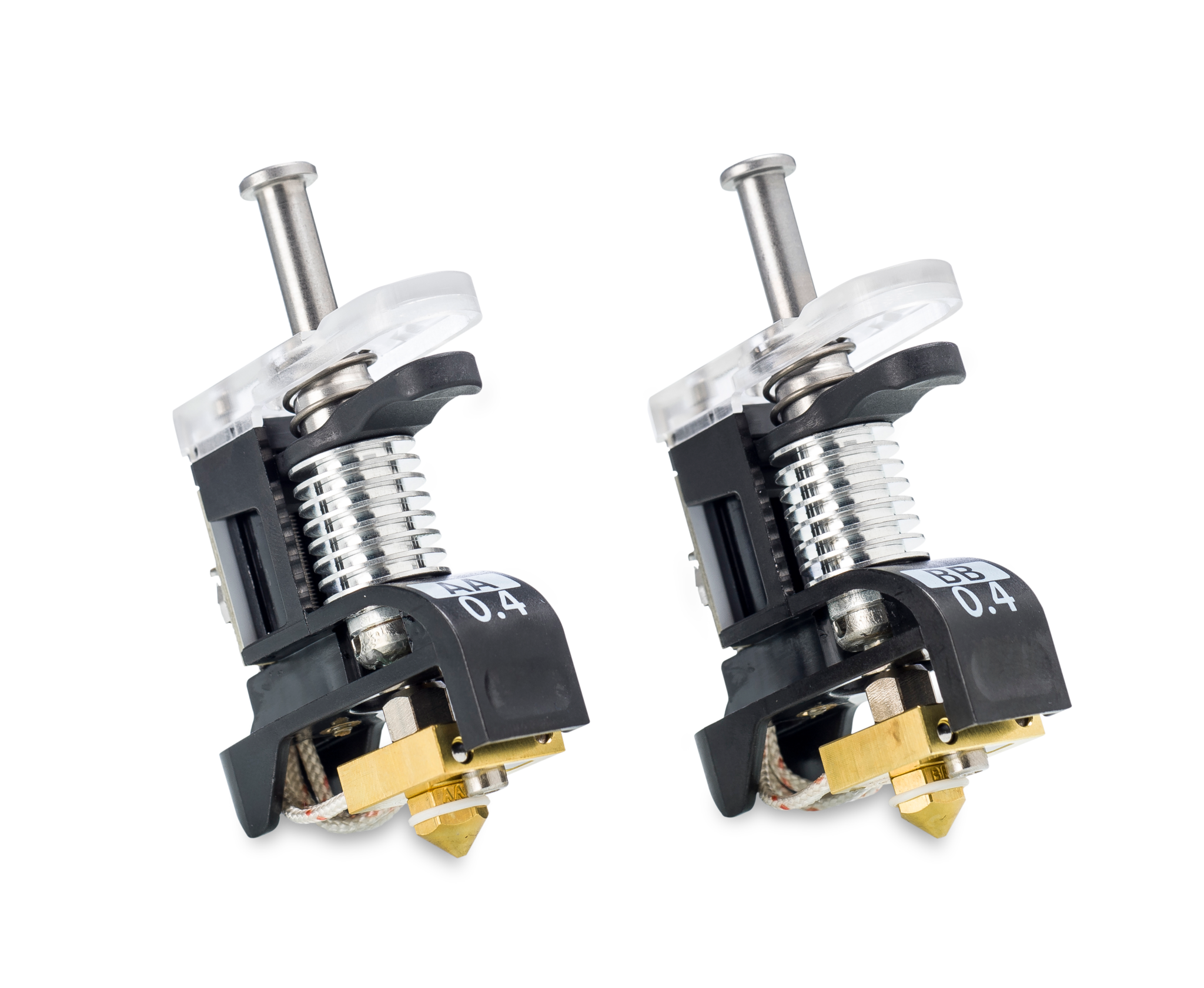 Look and feel
When it comes to design and machine build, the device looks almost the same as the previous model. The build surface is 21.5 x 21.5 x 30 cm, so just a little smaller, but big enough to print most objects with. Prints can easily be printed in multiple parts, which can be assembled later. 

The Ultimaker 3 Extended now has a semi automatic calibration, and the connectivity has improved a lot. It is now possible to work with a USB stick, the 3D printer can be connected to a network, and it is possible to connect with it through WiFi. And your prints can be traced via the built-in camera. 
Materials
With the new modular print heads, the possibilities when it comes to materials have also increased. Both the print head and the heated bed can handle temperatures that are a bit higher, which means that printing with for example poly-carbonate is also an option now.

Besides PLA, ABS, PETG, Nylon and some types of flexible filaments, you can now also work with specially developed support materials, such as PVA, HIPS, and PolySupport. The possibilities are endless, and even the most complex prints are not a problem. 

Since the new print heads are modular and therefore easy to change, it is possible to use a different type of head for every type of material. This means that the print heads will get stuck less often and it will increase the reliability. 

Cura 2

When you purchase the Ultimaker 3 Extended, you will get the renewed Cura 2 for free. Cura is Ultimaker's own open source-software. 
The software is one of the best known and most often used slicer software that is currently available, and it is very user friendly. The latest version focuses more on working in the cloud, by means of new networking possibilities, and monitoring your prints from a distance. The software can of course be used on Windows, Linux, and Mac. 


Sound

Just like the Ultimaker 2, the new Ultimaker 3 is an almost silent 3D printer, which can be used in or near an office environment. Other 3D printers often make a lot of noise, but the Ultimaker 3 only produces 50 db. 

 
What is in the box?

Ultimaker 3 Extended
2x Print Core AA 0.4 mm
1x Print Core BB 0.4 mm
Coil holder with NFC cable
1x coil PLA (350 grams)
1x coil PVA (350 grams)
Ethernet cable
USB stick
Toolkit (glue stick, keys, materials guide, calibration card, etc.)
Testprint of your Ultimaker 3

Is this 3D printer suitable for me?
The Ultimaker 3 Extended is the most versatile device that is currently available. If the build surface is big enough for your purposes, chances are that this 3D printer meets your needs.
However, it might make sense to contact us, especially if this is going to be your first 3D printer. In some cases, another model might be a better fit for your specific requirements.

The new Ultimaker 3 Extended is very suitable for professionals, educational institutes, and prosumers who want to experiment with 3D printing in a reliable way. 

3D Ninja has a large assortment of 3D printers and a team of 3D printer experts. This allows us to provide your with a great advice.
If you have any questions, please contact us via + 31 (0)74 700 2101, or send us an e-mail at info@3dninja.nl (fast reply).
You can also visit our showroom in Hengelo and see the Ultimaker 3 in action.
We do appreciate it if you would make an appointment first, so we can make sure that we have the time to provide you with proper information.

We also offer service contracts for this 3D printer, you can click here for more information.
For this 3D printer, we have valuable business lease opportunities, click here for more information.
Why choose 3DNINJA?