€4.395,00
21% VAT included
Raise3D N2 Plus Dual
Are you looking for a reliable 3D printer with a large build surface?
The Raise3d N2 Plus printer would be the right choice...
Free EU shipping above €100,-
Information

The Raise3D is the first affordable large dual extruder 3D printer on the market.
With a build surface of no less than 305 x 305 x 610 mm, the Raise3D N2 Plus is suitable for larger 3D prints.

Dual extruder

The Raise3D N2 Plus uses a dual extruder and can be used to work with a large number of filaments.
For example:

-PLA
-ABS
-Hips
-PETG
-PC ABS
-ABS 350
-PC Plus (Poly Carbonate)
-PC Max (Poly Carbonate

Since the Raise3D N2 Plus uses a Full Metal hot-end, some of the PLA filaments might be harder to print. We therefore advise you to use composites.
A very good brand of filament to use with the Raise3D N2 Plus is Polymaker. This is also the brand that Raise3D uses to test its 3D printers.
Polymaker has both good Poly carbonate filaments and good PLA composites. Check out all the possibilities here:

https://www.3dninja.nl/nl/brands/polymaker/

Even though the 3D printer can handle filements such as ABS and Poly Carbonate very well, large prints with these materials might be harder to create than smaller prints.
This is because these types of filaments strongly respond to changes in temperature.
If the full build surface is used, it would be best to go for PLA filament, in order to be sure of the perfect printing quality.



Software:

The Raise3D N2 Plus can handle multiple types of slicer softwares. It comes with Raise3D's own software, but the device is also compatible with well-known slicers such as Cura (Ultimaker) and Simplify3D.

Control:

The Raise3D N2 Plus is remarkably easy to use. The 3D printer has a 7 inch full colour touch screen, which allows for a real time monitoring of the progress.
On top of that, it is possible to pause the device, so that the filament can be changed or refilled. The N2 Plus also stores its positions in case of a failure, which means that afterwards, the printing can be easily resumed.
The Raise3d N2 Plus has a WiFi, LAN, US, and SD connection.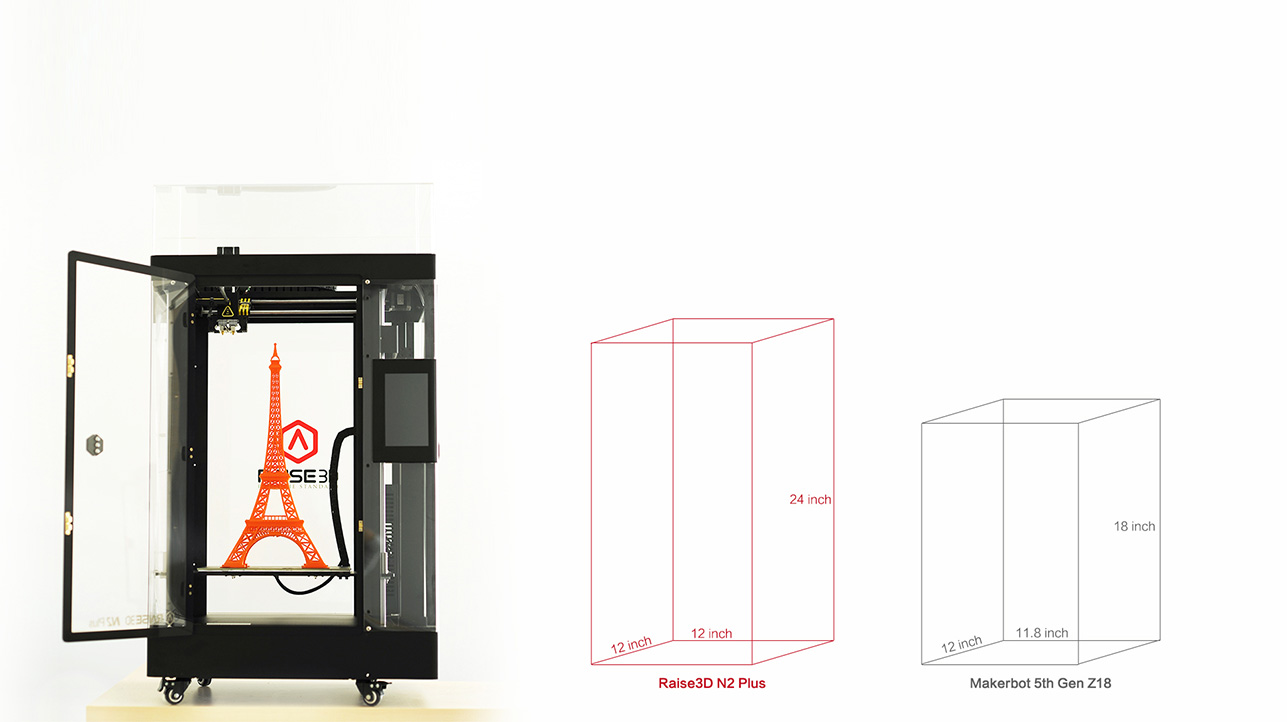 Precision

The Raise3D N2 Plus prints with an accuracy of up to 10 micron Z resolution and 12,5 micron X/Y resolution.

Heated bed

The heated bed reaches a temperature of 110 degrees. This means that the 3D printer can handle a large number of (industrial) filaments.


Please note: due to the large size of this 3D printer, we ship it on pallets. This means that shipment usually takes up to 2-3 business days, instead of our regular 24 hours.
Shipping to European countries is free of charge.






Why choose 3DNINJA?