Polymaker PolyMax PLA - White
Polymaker PolyMax PLA is a filament with excellent mechanical properties and printing quality. PolyMax PLA has an impact strength that is 9 times better than PLA and has better mechanical properties than regular ABS filament.
Free EU shipping above €100,-
Information
Extremely strong

Regular PLA is a rather fragile material, which can really limit the purposes of a print. Polymaker PolyMax PLA is designed to change this. With an impact strength that is 9 times higher than regular PLA and even 20% higher than ABS, PolyMax is really way ahead of the competition. If you are looking for a material that is able to handle mechanically demanding tasks, PolyMax might be it.
Quality without compromise

The mechanical strength of PolyMax PLA is achieved without damaging the printing quality. PolyMax is made using the 'Jam-Free' technology, which guarantees high quality prints with excellent strength and the ease of printing with PLA.
ABS as a thing of the past?

Are you still printing with that smelly ABS? With PolyMax PLA, you no longer have to endure the ABS fumes; you can print with the ease of PLA, combined with the same strength as ABS. The material also works very well with a large assortment of 3D printers, without smells & fumes, and a smaller chance of warping.
Technical Specifications

Material
PLA
Colour
White
Weight
750 g
Temperature range
180 -240 °C
Recommended temperature
185 -200 °C (1.75 mm with heated bed)
200 -230 °C (1.75 mm without heated bed)
200 -230 °C (3.00 mm)
Recommended speed
40 - 120 mm/s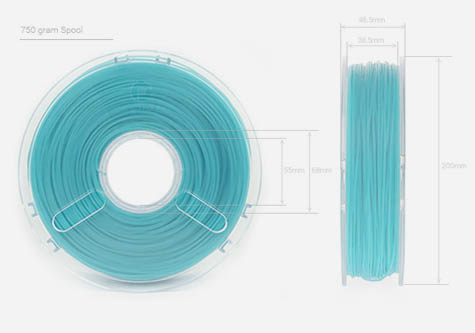 If you want more information about PolyMax PLA, you can download the technical data sheet here.
Why choose 3DNINJA?