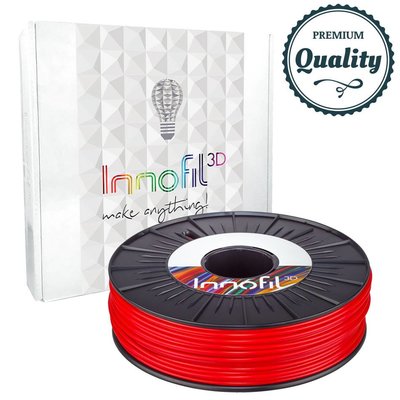 Innofil3D Premium ABS - Red
Free EU shipping above €100,-
Information
It has taken a while, but our new range of filaments is finally in stock.
After extensive testing, we have made a selection from the 7 best European filaments based on consistency, strength, extrusion, adhesion, colour, price, and offer.
We proudly present our latest addition, the premium filaments range by Innofil 3D.
High-quality Dutch filament that makes the most of every printing job, to be recommended for both consumers and business users.


Why choose Innofil 3D filament?

The filaments for 3D printers have experienced rapid developments in the past few years.
To improve the printing qualities of filament, it is not enough to just get plastic threads from PLA or ABS granulates.
Research is increasingly more important, in order to improve the mechanic properties, such as print quality and the strength of the filament. This makes a huge difference in quality when it comes to different brands.
Thanks to an extensive research and development department with own specialists, polychemists, and the best instruments, Innofil 3D gets ahead of the competition, with a better filament at an affordable price.


Good filament is half the battle

A 3D printer can be very good, but when it is used with bad filament, the results will be bad as well.
Filament is so important for the printing process, that a cheap printer of a few hundred Euros with premium quality filament will get a better result than a more expensive printer of thousands of Euros, with cheap filament.


Premium PLA filament at an affordable price

All Innofil 3D filaments have undergone extensive testing and get the highest certifications.


Check all the test results and certifications here:

Technical Data Sheet Innofil3D ABS


Material Safety Data Sheet Innofil3D ABS




How do we create our filament range?

Technical specifications are nice, but they are not everything.
We know from experience that there is only one method to be sure of the quality, which is test, test, and more tests.
Every material and even every colour (pigment also changes the printing properties of filament) are extensively tested by us, in our own printing room, on at least 10 different 3D printers
This process takes up many weeks, but it ensures that our customers get a high-quality filament at a fair price.


A direct connection to the manufacturer

3D Ninja does is not just a seller, we are also the Dutch distribution partner of many of our brands, including most filaments.
A benefit that allows us to work closely with the research department and laboratories.
This is a great advantage when working towards the best quality.


Which filaments do we offer:

Innofil3D: our premium range for PLA and ABS filaments


PrimaValue™: Our budget range for PLA and ABS filaments.

Refil: Our Premium filaments range for recycled PET filaments

Polymaker: Our premium filaments range for filament specials with extraordinary properties.

We also sell filaments for closed systems such as Zortrax, XYZ Printing and CEL robox.
These filaments can only be used for these brands.


All filaments are in stock

All filaments we sell are in stock, thousands of them, ready for shipment, when ordered before 10.00 PM it will be shipped on the same day.
Why choose 3DNINJA?